It's happening guys. The clues to find if the Rocko's Modern Life reboot is actually happening are getting closer and more accurate.
First of all. On Joe Murray's Journal at his blog, www.joemurraystudio.com, he says he is working on 2 new projects. The first one is about a new show that will air maybe in 2017 on PBS and he almost finished the pilot. The second project, as he says, is TOP SECRET, but he says some people figured it out. It could be a clue? Maybe.

Then, surfacing on Youtube, in the video of RML intro that Nick Animation Studio uploaded, someone commented a day ago if the reboot is happening because there's a lot of rumors on the internet. Nick didn't want to say anything, so I asked them on Twitter and same thing happened. They didn't want to tell anything. Maybe because it is TOP SECRET? No one knows.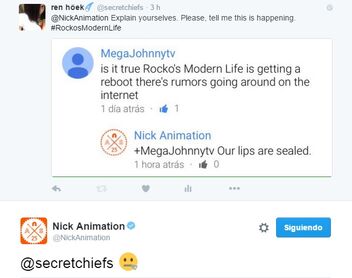 And the last clue of this update, Carlos Alazraqui, the voice of our favorite wallaby, Rocko, tweeted this afternoon this photo. I think the caption says all we need to know at this point.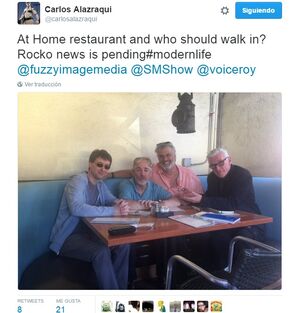 Altought Charlie Adler says it is not 100% official yet, he keeps saying to the fans that it could REALLY happen. He said on twitter that he's scared and thrilled at the same time, but even he wants this to happen.
All we need to do is kept our fingers crossed and wait for a confirmation or at least an explanation of what is happening on Joe Murray's next journal if he does one about this. We'll have to wait.
See you on the next update!
Community content is available under
CC-BY-SA
unless otherwise noted.