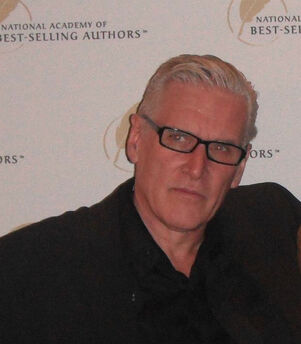 Martin Olson (born April 2, 1956) is an American comedy writer, television producer, stage director and composer. He is also a playwright and poet known as an original member of the notorious "Boston Comedy Scene." Prior to working on Rocko, Olson served as a comedy writer for HBO specials featuring comedians.[1]
Olson has received four Emmy nominations and an Ace Award for television writing, and two Emmy nominations for songwriting. For Rocko's Modern Life, Olson was one of the original staff writers through all four seasons, writing many of the weirder RML episodes, including "Wacky Delly," "I Have No Son," "Belch of Destiny," "Sugar Rush," "Born to Spawn," "Tickled Pinky" and "To Heck and Back." He holds the distinction of being the only writer to pen episodes for all four seasons and the special Rocko's Modern Life: Static Cling (George Maestri wrote for the show's entire run, but not the special).
Since Rocko's Modern Life, Olson has written for Phineas and Ferb and Milo Murphy's Law, and provided the voice of Hunson Abadeer in Adventure Time. Olson's satire "Encyclopedia of Hell" was published by Feral House (July 2012) and his second book "The Adventure Time Encyclopaedia" was a best seller published by Abrams Books (August 2013). His daughter, singer and actress Olivia Olson, is known for voicing Vanessa Doofenshmirtz in Phineas and Ferb and Marceline the Vampire Queen in Adventure Time.
RML Filmography
All of Olson's credits are "story by."
Season 1:
Season 2:
Season 3:
Season 4:
Special:
References
Community content is available under
CC-BY-SA
unless otherwise noted.