Joseph David "Joe" Murray (born May 3, 1961) is an American animator, writer, storyboard artist, voice actor, producer, director, and illustrator best known as the creator of Rocko's Modern Life, Camp Lazlo, Frog in a Suit, Let's Go Luna!, and KaBoing TV.
He also voiced Rachel Bighead in the series, and a caricature version of himself in "Short Story".
Career
Joe Murray also worked for the 2001 direct-to-video film Tom and Jerry: The Magic Ring who credited as the executive producer and the 2005 direct-to-film Tom and Jerry: The Fast and the Furry. Murray also worked on episodes like A Pup Named Scooby Doo for Hanna-Barbera, Adventures of Sonic the Hedgehog for DIC Entertainment, Garfield and Friends and Bobby's World for Film Roman, The Itsy Bitsy Spider for Hyperion Animation and Pet Alien for Mike Young Productions.
He also did a short voice role in Camp Lazlo as a voice of a baggage handler in "Miss Fru Fru". His only line was "What, I'm on break." He also voiced S.M.I.T.S. in Bad Luck Be a Camper Tonight.
Episodes written
Favorite Episodes
Videos
Gallery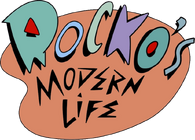 Click here to view the gallery.

Trivia
He didn't consider himself a voice actor, but Martin Olson convinced him that he was suited for the role since they're both cartoonists.
External Links