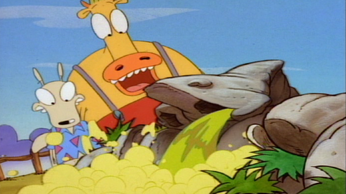 Flem Rock was a small Tourist Attraction outside of O-Town. It was seen in Road Rash where Rocko and Heffer go to see it before it's demolished. It was named for its green algae rich waters that flow through the rock shaped like a nose, and the water appearing as mucus.
According to a news anchor, it used to be "America's favorite tourist trap" and a renowned outdoors-man hailed it as one of the 10 wonders of the world, and he was the first and only person to hike up to its top because he was much smaller than it. As of the episode, "in recent years" attendance had dropped (most likely due to the fact that its real size is much smaller than in pictures, where it appears to be enormous, leading to much disappointment among people who saw it), so it was flattened after its last eruption on a Friday, but only after Rocko and Heffer get to see it and be sprayed by its water.
Community content is available under
CC-BY-SA
unless otherwise noted.