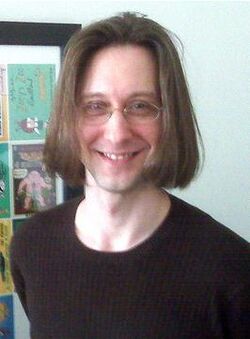 Doug "Mr." Lawrence (born Douglas Lawrence Osowski on January 1, 1969) is a cartoon show director, writer and voice actor. He provided the voices of some of the characters such as Filburt from Rocko's Modern Life. He currently voices Plankton, Potty the Parrot (since season 10), the Realistic Fish Head, and others on SpongeBob SquarePants. He also voiced Mr. Frank on Hey Arnold!, and Edward T. Platypus, Nurse Leslie, Dave, and Ping-Pong on Joe Murray's later series Camp Lazlo. He is still with SpongeBob in both voice acting and writing and got promoted to story editor in its recent 10th season. Also, he served as story editor and writer of Mighty Magiswords in the early episodes and he voices Ralphio and Helmut.
Contrary to popular belief, Mr. Lawrence is neither married nor related to fellow SpongeBob SquarePants voice actor Carolyn Lawrence.
Portrayals
Episodes he directed and wrote
NOTE: In season 2 and 3 as well as Sand in Your Navel, he did storyboards. Also, all episodes from seasons 2 and 3 are with Robert McNally-Scull.
Season 1:
Season 2:
Season 3:
Special:
External links
Community content is available under
CC-BY-SA
unless otherwise noted.