Dingo

Name

Dingo
Foofy No-No (nickname)

Gender

Male

Species

Wallaby

Occupation

Student (Formerly), Rocko's Bully (Formerly), Pet of Lingo, Member of Hare Krishna

Friends

Enemies

Appearance(s)

Voiced By
Dingo, appearing in Wimp on the Barby, was Rocko's bully during his childhood in Australia. In the episode, Rocko explains that he fled to America to escape from Dingo. When Rocko's mom calls to tell him that he is coming to visit, Rocko panics, afraid Dingo will come to the United States and continue to bully him there. When Dingo arrives at Rocko's house, he reveals himself as a member of a Hare Krishna-esque cult that opposes all types of violence and that he is now at peace with everyone, and is now known as "Foofy No-No". His ears are also gone when he visits Rocko. He presents Rocko with various gifts (a three-speed blender, Bacon-in-a-box, and $5) and asks Rocko to punch him in the nose for all the pain and suffering he put on Rocko for years. Rocko is apprehensive at first but does it anyway. As he leaves, Heffer and Filburt ambush him and attack him, unaware of his changed personality. He was voiced by Carlos Alazraqui.
Despite his name, Dingo resembles a kangaroo more so than he does an actual dingo.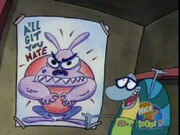 Community content is available under
CC-BY-SA
unless otherwise noted.