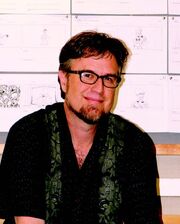 Daniel Kingsley "Dan" Povenmire
(born September 18, 1963) is an American television director, writer, producer, storyboard artist, and actor associated with several animated television series. He is the one of the creators of Phineas and Ferb. Born in California and raised in Mobile, Alabama, Povenmire attended USC Film School. At USC, he wrote and drew a cartoon for The Daily Trojan called "Life is a Fish." In addition to being the co-creator and executive producer of
Phineas and Ferb
, he also performs the voice of
Heinz Doofenshmirtz
on the show.
In addition, Povenmire has been one of the main songwriters for Phineas and Ferb, along with co-creator Jeff 'Swampy' Marsh and fellow writer Martin Olson.
Povenmire was previously known for his work on Rocko's Modern Life and Family Guy. He was a well-loved animator on Family Guy and was given most of the show's musical numbers to do. He was also counted on to animate "something funny" when writers couldn't come up with a visual joke on their own. He described his job before Fox resurrected the show as "basically entertaining themselves" as a production staff.
Episodes Credits
With the exception of two episodes in season 1 and one episode in season 4, Povenmire's main storyboard/writing partner is Jeff 'Swampy' Marsh, which explains their long-term partnership that continues over the years when they created two shows on Disney together.
Community content is available under
CC-BY-SA
unless otherwise noted.